Microsoft Cloud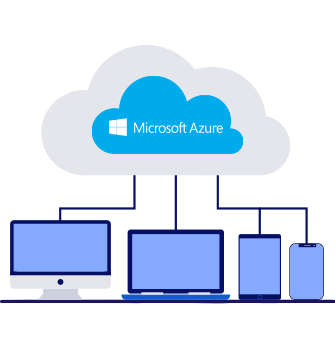 Searching for Microsoft Cloud Services?
You can give it a try with DBaaS Ltd in the United Kingdom, where it offers comprehensive Microsoft cloud service for the growth of your business. Technology is changing frequently and it is essential to adapt to the latest technology. With enhanced security and mobility, benefits allow the business to switch over to cloud computing services. You can get cloud services that offer your business the chance to create, manage as well as deploy applications. DBaaS Ltd keeps your business secure in the Microsoft Cloud. Our in-house cloud specialist helps your organisation to overcome business challenges or problems.
Microsoft Azure is an impeccable and supple platform that meets challenges faced by the organisation as well as keeps your IT system to stand competitive and profitable.
Reasons to use Microsoft Azure Cloud:
Enhances the complete performances of your IT systems
Lowers the cost of IT Ownership by paying for what you use
Improved scalability and business sustainability
Data security and prevents from latest threats
Reliable disaster recovery for various types of data
Utilizes cutting edge cloud solution
Designed for businesses of any size
Saves cost
Get Cloud storage service in London for servers, storage, desktops, VoIP, and more at a competitive price. DBaaS Ltd cloud computing specialist offers cloud adoption service, hybrid cloud solution, and fully managed cloud service.
Our team from cloud computing focuses on client requirements and offers exceptional support. The IT consultant team from DBaaS Ltd helps you in providing advice, guidance, supply, delivery, and transition service for taking Microsoft Azure Cloud Technologies. We offer the best customer support for your business.